Nick McRoberts and I, recently had the privilege to be invited to a moving ode to Paris Street Art, the 5* Hotel Molitor. The French Accor Hotels group took a real entrepreneurial risk in transforming this abandoned open-air swimming pool in the Center of Paris, to transform into a luxurious French Riviera-like Palace. When in Paris, I would recommend you to go and see. It is really amazing and the top floor bar is a great romantic place to be.
Bearing in mind, the exceptional service (all in blue Lacoste shirts, friendly, reactive and humorous), the exceptional infrastructure and the outstanding decoration (starting with a fully tagged Rolls-Royce in the middle of the lobby), I was anxiously looking forward to see what the Board Room would look like? What kind of a breath taking surprise would the mad designers have found for us, as we were with the Board of a French company… It was a real shock… Just as flat and boring as any other standard Board Room. If there is something as global as a McDonald's hamburger, it is a corporation's Board Rooms, which should frankly be called Bored Rooms… Honestly, tell me, does your own Bored Room dramatically differ from this where we were at Molitor?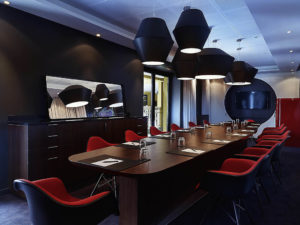 How on Earth do you want to:
Create connections when half of the audience doesn't see each other as the sit on the same row?
Listen to each other when a third of the audience is too far and hidden to clearly hear what people at the end are saying?
Be creative when the environment is so stiff, impersonal and dull? We are all stuck in our seats, slowly dosing to a nice nap, when the discussion isn't ours?
Instill a sense of belonging when we are so far apart from each other?
See anything at all on the unavoidable speadsheets and PowerPoints?
Engage with each other into a truly face to face, honest and transparent dialogue?
Not be watching your mobile phone under the table as only your two closest neighbours may see you and anyway they also did it before?
A light hearted but serious post before we all, hopefully take a break! Make sure that, when you get back, you alter your Bored Room and offer your team a far more connecting, relational and inspirational space. Be bold and call it "The Bold Room".
I hope to be back in September with relevant thoughts and material. Thank you for following me every week-end