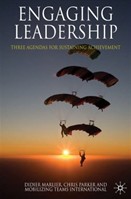 The Enablers Network is a community of psychologists, economists, anthropologists, medical doctors, sociologists, ex-military officers, academics, artists and consultants.
We represent 11 nationalities and the capacity to operate in several different language environments around the world (Dutch, English, French, German, Italian, Portuguese, Spanish, Swahili). and are based around the world (Belgium, Brazil, Canada, France, Hong-Kong, Malaysia, Netherlands, Switzerland, United Kingdom, USA)
We seek to practice what we advise others to do. We are therefore organized on a "connected and organic" model rather than as a hierarchical or administration-heavy organization. We have managed to federate under our umbrella highly unusual people whose common feature is their strong characters.
Our areas of interest vary from strategy to leadership, academia and research to practical application, arts to sciences.
We also try to apply to ourselves the emerging values of the "Open Source Economy", summarized under the G.R.A.V.I.T.A.S. acronym:
Generosity
Responsibility
Agility
Value (authentic value, not the short term perspective)
Interdependency
Trust
Authenticity
Sharing attitude