Too often, James Brown's greatest hit, plays in my head when facilitating sophisticated senior teams during a delicate working session of theirs. Generally speaking those teams, rightly so, seek to raise the level of their collective game by challenging each other, calling on each other to do a better job. This is healthy and I have sufficiently expressed my concerns about neutral, avoidance-driven cultures not to recognize the merits of leaders who choose that courageous attitude rather than spend most of their meetings guessing what it is that the dominant character expects to hear and dancing around the authority figures. In the model that those attending our programs know well, this is the "Neutrality Box", leading to a culture of "mediocracy", where people hardly respect each other, leave aside, respect themselves.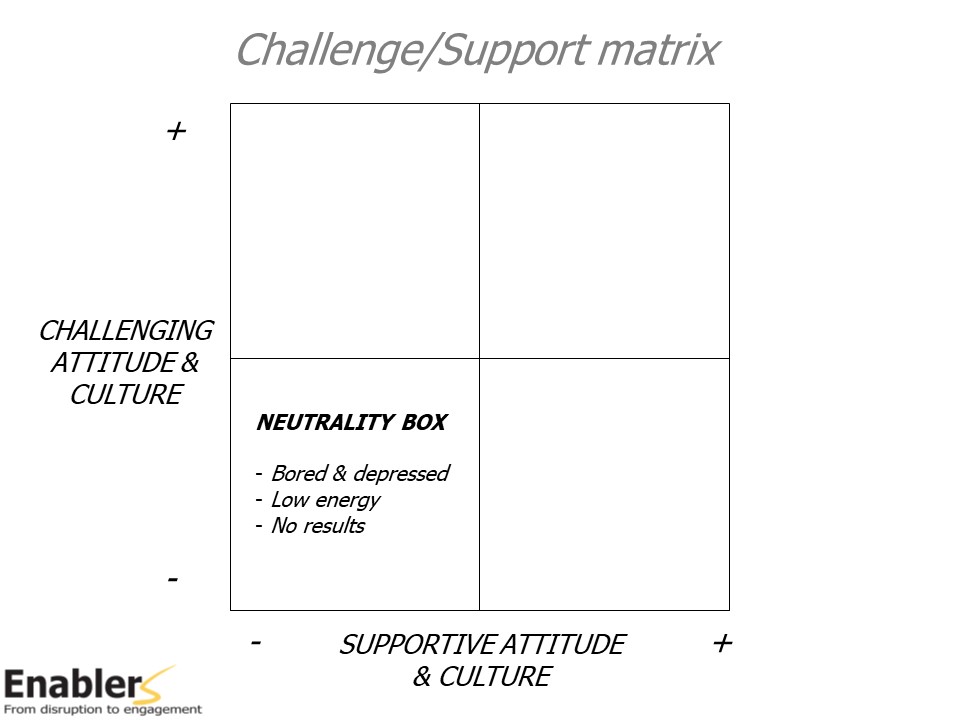 Nevertheless, when they wish to get out of the platitude of Neutrality, well-intentioned leaders, in their haste to challenge each other, provoke conflicts, emotional outbursts, rancour and ultimately, disengagement. The High Challenge culture which they seek to create among themselves becomes oppositional. Consequently, their meeting drifts into a "Passive-Aggressive" culture, characterized by poor strategic exchanges, ending in ill-fated decisions, dictated by fear of the strongest character or settling down for a mediocre decision, reminding us of the "Abilene Paradox" (see below this monument of team dynamics psychology).
Going straight for a High Challenge culture is paradoxically the wrong way to create a Challenging Culture which will bring sustainable, above average results.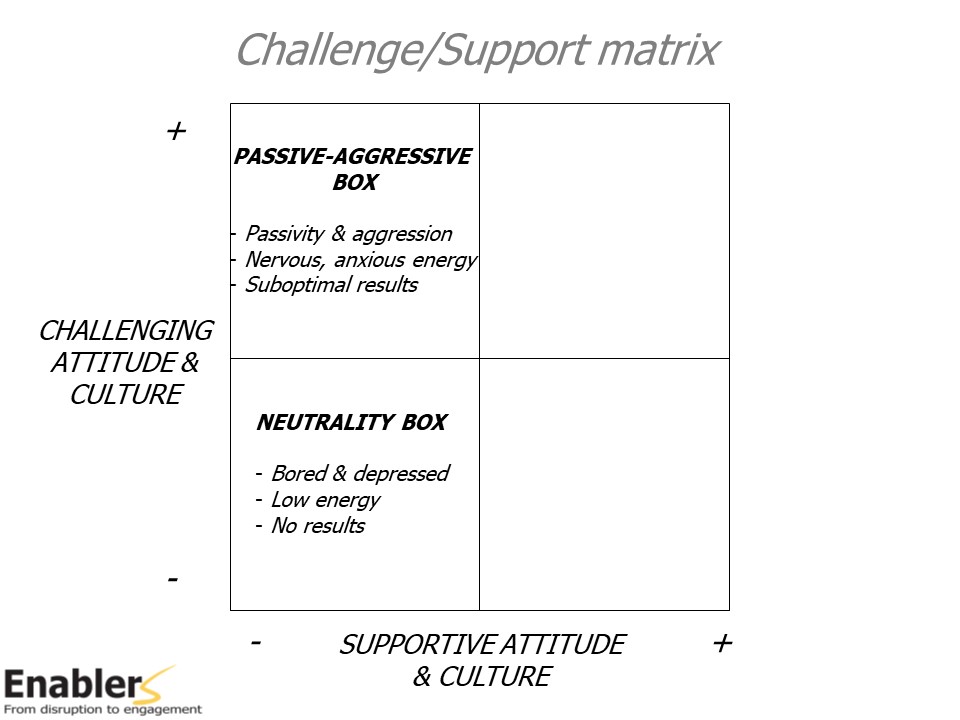 The surest way to create a culture where leaders hold each other accountable, call each other to raise the level of their game and successfully address their issues, is to install first a highly supportive culture! A truly supportive culture (not one of avoidance) will aim at creating Google's famous "Psychological Safety", it will enable quality dialogues, rich exploration, intellectual and emotional alignment and build the foundations for Lencioni's pyramid (Patrick Lencioni is an American psychologist whose work led him to suggest that, at the foundation of outstanding Business Results -called "Attention to Results"-, lays:
a powerful culture of Trust (comparable to "Psychological Safety")
Trust would allow healthy and constructive Conflicts to emerge (the challenging culture so many leaders are longing for)
Those, if well dealt with would imply Commitment (the sort of engagement may of us wish to create)
This would, in turn lead to Accountability (or ownership)
Which delivers a culture of Attention to Results.
The absence of Trust creates "The Five Dysfunctions of a Team", the title of Lencioni's book…
So why do the leaders that we are, so reluctantly engage into creating first a Supportive Culture? Probably because so many of us have in mind one or another person whose "Supportive Attitude" was in fact "Avoidance and cowardice in disguise"… Creating a High Support/Low Challenge culture, with the aim of avoiding conflict, settling for mediocrity and pretending to be a great team is something we all despise. Not only is it unsustainable in terms of results (such teams rarely reach their objectives), they also are short lived as they are based on non-values. The High Support/Low challenge box can go two ways: a virtuous Developmental Route or a vicious Avoidance Path.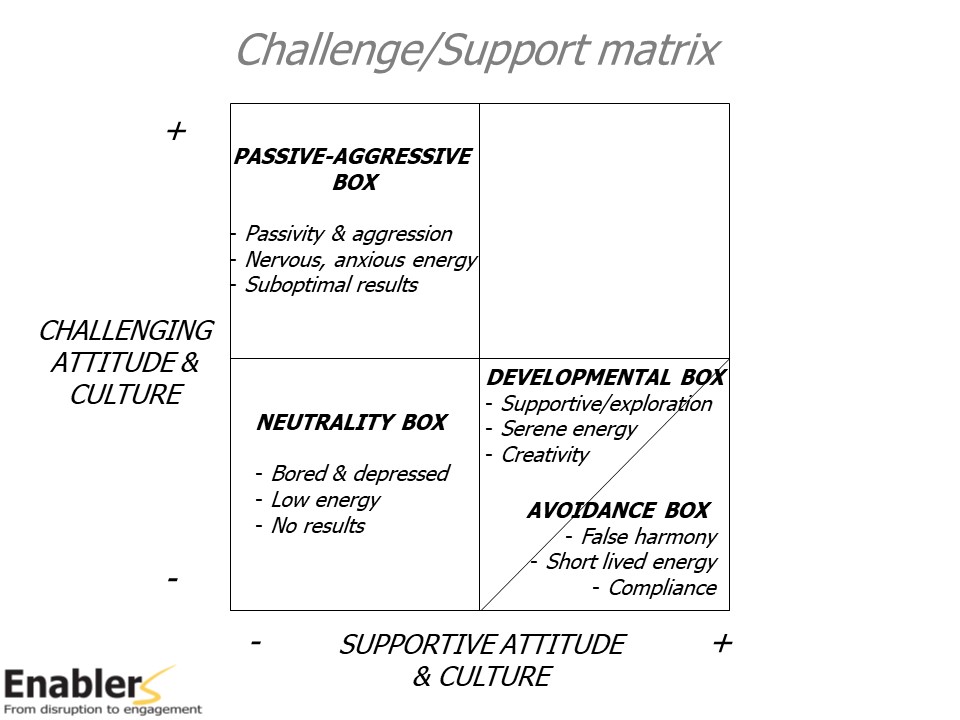 Let us focus on the Developmental Box: because it creates the conditions for Trust and Psychological Safety, it has now made it possible for participants to a strategic conversation, to challenge each other, ask delicate questions and to hold difficult conversations. Taking back a term from Ury and Fischer seminal book (Getting to Yes), participants will be "hard on the problem, soft on the people"… and performance will start to emerge. This is the "Performance Box" in which, very high level of challenges can be reached… because the level of support is even higher.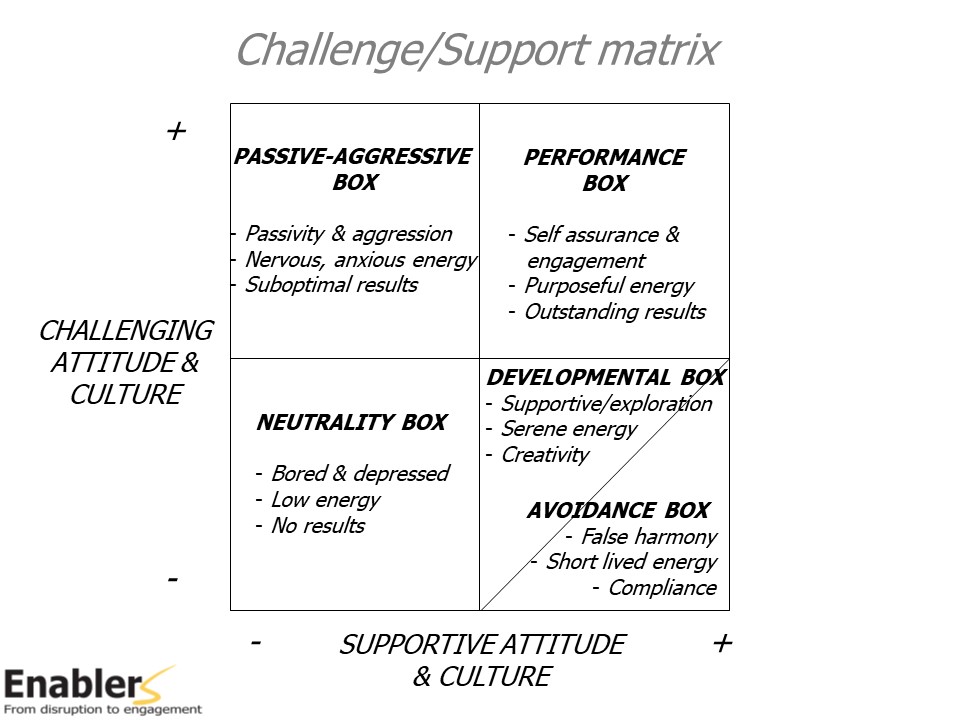 The way to a challenging and successful culture goes through creating a supportive one first. The way to hard factors, has to go through soft first. Just like a Men's world which… "would be nothing without a woman or a girl… because he's lost in bitterness".
We are frequently invited to facilitate and support tense meetings between bright and opinionated leaders. We are recognized experts in helping leadership teams to create a High Challenge, psychologically safe culture for their organization. If you wish to explore about our "Team Coaching" practice, contact us at [email protected]