Have you noticed how a radical diet (here speaks a specialist????) creates a (sometimes) healthy shock in our constitution (two years ago, I lost 15kg by stopping to eat during 15 days, my blood pressure was back to where it should be, my glycaemia level was under control) but if the mindset does not change, sooner or later the pendulum shifts back? In my daily job, I see the same happen with rough cost-cutting, massive lay-offs and other spectacular operations which seem to aim more at guaranteeing the CEO and Board's bonus than get the organisation on a healthy path. As a reminder, to some of you, Nick van Heck and Paul Verdin say nothing different in their VC2 Matrix: an organisation stuck in the "Horizontal Game" between Illusion and Hell and series of cost-cutting rounds, rarely gets out of that cycle unscathed.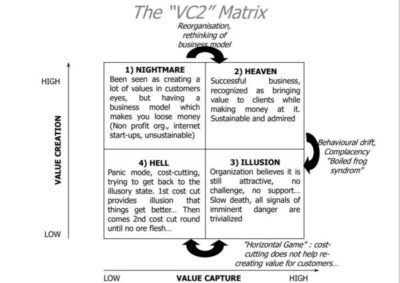 The first guest of our new YouTube Enablers channel was Paul Monk. A Historian by training, having worked for the Australian Intelligence Service, he became a famous journalist and writer in Australia. We wanted to have his opinion on the future of the Disruption Economy and of… our World. The whole interview can be found here. But here is a brief summary (9'50'') from Paul Monk's key messages.
Paul explains the dilemma that transformational leaders faced in History, when invading, transforming nations. Was everything bad in them? He explains that the Goths invaders made it a point to preserve Rome, its aqueducts and culture as they had, humbly, perceived their superiority to their native culture. When one of our clients, a major European Bank at the time, took a Brazilian bank over, they found their culture so healthy that they worked hard at having the target's culture influencing them back home.
When contemplating our Future, Paul recognized the complex and chaotic context towards which, as a species, we are heading. For him, it is:
Too late and vain to focus on preserving the old system
A poor investment to rebuild the ruins of Rome. Far smarter is to let go (not brutally destroy) of the Past and aim for a better Future.
That, provoking another crisis (military, social, political, migrational or environmental) would be disastrous, given the number of humans on Earth and the potentially destructive technologies we have at hand.
So… Revolution? Evolution? Stagnation? Negotiation? What if it were first of all a matter of mindset, self-critical thinking, paradigm shifts and orthodoxies challenge?
We look forward to welcome you on our YouTube Channel. We hope that the next speakers will be as interesting as possible to you and to your leadership practice.
Enjoy your Leadership Journey.