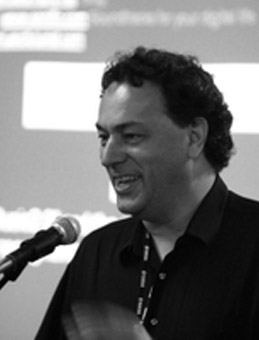 The Wall Street Journal calls Gerd 'one of the leading Media Futurists in the World'. Co-author of the influential book 'The Future of Music' (2005, Berklee Press), of 'Music2.0' (2008) and 'The End of Control', Gerd's background is in music; in 1985 he won the Quincy Jones Award and subsequently graduated from Boston's Berklee College of Music (1987).
Since 2002, following a decade as digital media entrepreneur and start-up CEO, Gerd speaks at conferences and seminars around the globe on the Future of Media, Content, Technology, Business, Advertising, Telecom, Communications and Culture.
Gerd's keynotes, presentations and think-tanks are renowned for his hard-hitting and provocative yet inspiring, motivational style. With more than 1'300 engagements in 43 countries since 2003, Gerd has addressed over 150'000 professionals, and is considered a key influencer.
His diverse client list includes Nokia, Google, Sony-BMG, Telkom Indonesia, Siemens, Kuoni, RTL, ITV, the BBC, France Telecom/Orange, Deutsche Telekom, The Financial Times, MTN, DDB, Omnicom, the European Commission, Nokia Siemens Networks and many others. Gerd is a fellow of the Royal Society for the Arts (London), Visiting Professor at FDC Fundação Dom Cabral (Brasil), and resides in Basel, Switzerland