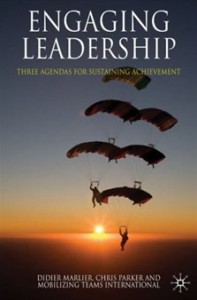 "Engaging Leadership" has been written for leaders about to engage themselves, their teams and their organization into a major change, as a consequence of a new strategic intent, the desire for a new company's culture, a painful reorganization or the integration following a merger or acquisition.
Its key message is that those leaders have to work on three agendas at the same time, if they wish to succeed in their project:
Logos (Intellectual/Strategic agenda)
Ethos (Behavioural/Leadership agenda)
Pathos (Emotional/Motivational agenda)
The book is short (256 pages) and provocative on purpose. It is richly illustrated by original examples, and unusual research in the world of business, psychology and sports. It has been our decision to avoid academic and psychological jargons. It "speaks business to business people" as Pedro Farah CFO for Dell computers EMEA stated it.
It has been on the "Hot Future Releases" list of Amazon UK since the announcement of its publication.