Unless we are Elon Musk or Jeff Bezos, the chances are that we feel increasingly concerned about leading in a context that we do not fully master nor understand. Who can claim that they have a clear grasp on all new technologies (3D copying, 4.0 Manufacturing, Artificial Intelligence, Big Data, Digitalization, Epigenetics, Internet of Things, Nanotechnology etc.) and their strategic implications for their business? I call this: Leading when I don't know!
One of my ex colleagues, inspired me the perspective here below: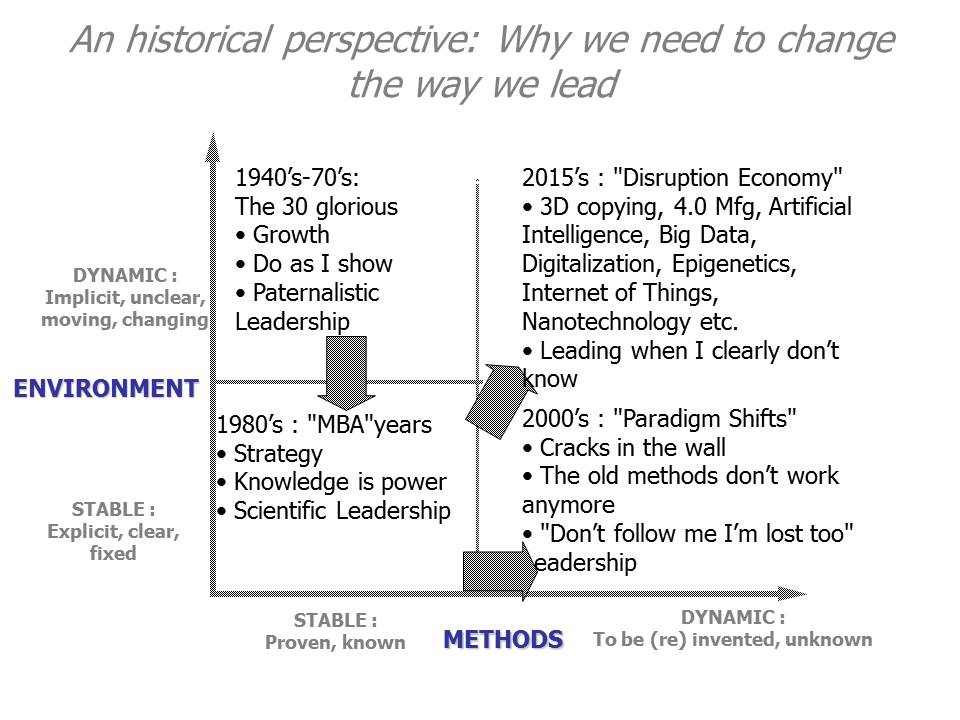 Ask yourself, how one used to lead in the post 40's when, in Asia and Europe, everything was to be rebuilt, or the 80's when the illusion was that every decision could be purely rational and the shock that hit us when we started to realize in the 2'000's that our old recipes were out of date. Today (and for quite some time I believe) we live under a regime of dynamic, fast changing objectives (Environment) and to be re-invented methods. Welcome to the V.U.C.A. World of the Disruption Economy.
I recently was in Rio, exploring with 40 experienced C.E.O.s of foreign and local multinationals, how to lead under such chaotic and complex circumstances. Little by little three pillars of "Disruptive Leadership" emerged. We named them, Logos, Ethos and Pathos (and I would be very grateful if you, dear readers could suggest other terms for that trilogy).
Logos: Context Leadership and Intelligent organization
In disruptive times, Logos evolves:
From Content to Context Leadership: Content leaders are efficient when they know or when their people expect them to know. But in a Disruptive context, they cannot pretend that they know. They need to shift their style as per indicated here below: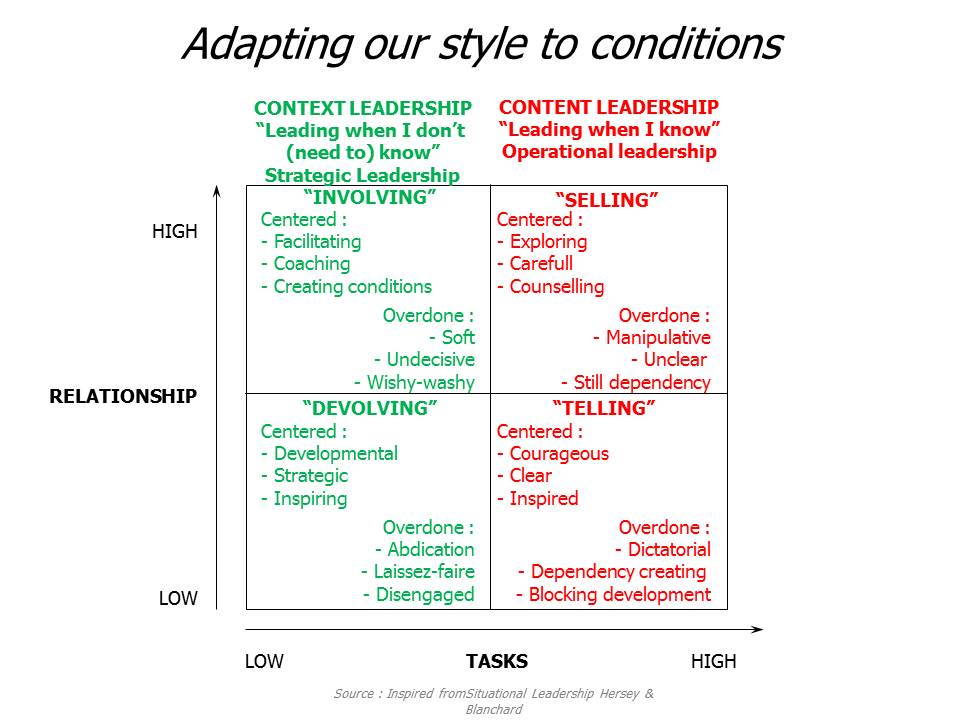 From being a brilliant individual leader to creating an intelligent organization

: In front of the challenges of the knowledge explosion, XXIst century leaders will develop intelligent and agile teams. You may remember the metaphor of the brain: our brain (read top leadership team) receives 11 to 13 billion bits of data/second (read the complexity of knowledge we are supposed to ingurgitate). It can only transform 50 to 70 bit of data/second into meaningful information (leaving 12'999'999'930 bits to be stored in our passive, unconscious, instinctive or intuitive intelligence). The same happens with leaders and we can't stretch our intellectual capacity much further. Imagine now if other organs of our body were able to be aligned on its Purpose (to keep us alive and as healthy as possible) and became capable of interacting with the trust and blessing of our brain and without its control? Suppose my stomach, mouth and hands refuse to feed me when they calculate I sufficiently ate/drank, without the brain having to interfere? That would create an "intelligent body" and not just an intelligent and integrative brain. Consequently, our brain and body could absorb much more data and transform it into meaningful information. Imagine if your organizations were becoming more intelligent, purpose driven with fully trusting leaders?
Ethos: Exemplarity and Psychological Safety
"Disruptive Ethos" is based on three pillars:
Exemplarity: Exemplarity generates trust and trust is absolutely fundamental to lead people when they "know that you don't know". Many politicians in Belgium, Brazil, France, UK or USA are experiencing the necessity of their nations to be lead by example in those troubled times…
Psychological Safety: Google's Holy Grail discovery that teams who have created Psychological Safety in their culture and behaviours are far more agile, creative and resilient than fear driven ones is groundbreaking. Disruptive leaders will create Psychological Safety around them.
Challenge and Support: Psychological Safety sounds very much like Czickszentmihalyi flow or performance zone in the model we have adapted from his thoughts. Flow creating leaders use the two behavioural levers of Challenge and Support to maintain their people into the Performance Zone.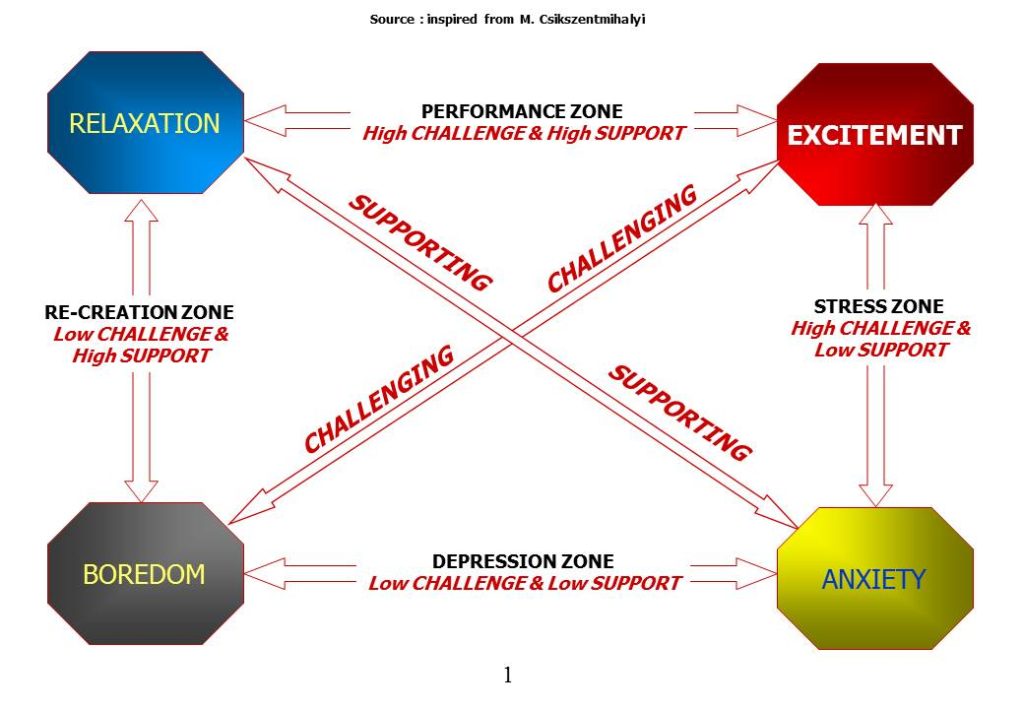 Pathos: The Sense of Purpose
Do you remember the highly illustrative looks on the faces of the basketball players of Efez Anadolu, invited to the… Opera by their President, to celebrate their new Title. Look again at the same faces when suddenly the Purpose of that invitation becomes clear… The same happens to your people when you send them the new Roadmap by e.mail or PowerPoint them to death in a one way broadcasting style… Particularly in times of doubts and insecurity, such as the Disruption Economy, our people need to understand the Purpose of the leader and the organization that they chose to follow.
In this short intervention (shown some years ago), retired Lt. General Paul van Riper (ex-commander of the US Marines) explains why a strong sense of Purpose is critical for a mission to succeed:
Refusing to lead, when we don't know is called abdication. Pretend to know when we don't, will destroy the trust our subordinates have in us. What about leading through those three levers?