All of you, whom I had the chance to work for, probably remember this simple and elegant matrix, inherited from my leadership Professor and ex-partner, Chris Parker: The Challenge vs Support matrix. It represents the different sorts of culture that leaders create through using none, one or both of the Challenge (demanding, dare) and Support (benevolence, care) levers.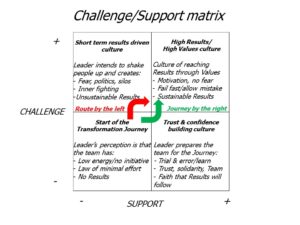 As you know, my partners and I support and accelerate engagement in ambitious cultural, organizational and strategic changes. Most of the time, leaders feel compelled to act as they find that the culture they inherited is in the bottom left square of the matrix (a moving tribute to their predecessor…:)
So, from that starting place, most of them intuitively assume that it is time to shake people up and send them a powerful wake-up call: the savior has arrived and she/he needs you! Steve Balmer (Microsoft ex-chairman, successor of Bill Gates, taking over an organization which seemed to have lost its edge) or, the hilarious fiction of John Cleese, "assuming command of this zoo" (feeling some of you may have experienced when taking a new organization over) offer two powerful examples here…
Steve Ballmer and…
… here is John Cleese! Well, one of the two was funny on purpose, the other not. Have you found out who?
Taking the top left route in order to bring the organization to the top right summit, is the classical mistake committed by "heroic", egocentric, fame and glory-addict leaders. It also is what many of us, less mentally disturbed, assume to be the most direct road. It is the only way, indeed, when the situation is dramatic, when the patient is under a severe, life-threatening hemorrhagic. Costs must immediately be radically cut, employees are, dramatically, laid-off and the patient undergoes an electroshock treatment. This path is necessary when time and resources are scarce and that none of it can be invested nor wasted anymore.
But the High Challenge/Low Support route, like chemotherapy, has severe downsides:
It radically changes the culture, indeed, but often towards one of fear, suspicion and selfishness (Save My Soul culture)
It instantaneously erects silos and rivalries between previously cooperating SBUs and Functions (Bonding Culture)
Like a cancer, politics and a "Guess what the Boss wants to hear" culture creep-in. Most of the organization's energy is inward looking. The enemy is my colleague!
The counter-intuitive choice requires far more from leaders. It consists in taking the slower, less spectacular and riskier "Journey by the right", to build a powerful coalition prior to attacking the summit.
A professional football coach (Fabio Celestini, ex-captain of Olympique Marseille and 2016 Swiss coach of the year), who I have the pleasure to work and grow with, has chosen that route with the new team he is in charge of. When taking over, his audit from where his organization was, suggested that high fear, low engagement and low collaboration had become its main cultural traits. Rather than a "man the f… up" virile attitude, he chose to act against his own style and needs (his hot temper, impatience and ambition should have sent him up the "left route"). Instead he chose a highly supportive attitude (listening, questioning, encouraging, taking the blame for the early poor results on his shoulders, not giving-up, not leaving anyone behind), with of course a pinch of challenge (giving feedback, raising the bar slowly, taking clear decisions on who will and who won't play the game etc.) The culture changed little by little into one where:
Players suddenly started to put themselves in danger for the team (defense players scoring, forward players becoming the last Defense), young talents emerged, a culture of Generosity and solidarity appeared.
A real cement started to solidify between the players. A team culture was born (instead of a collection of individuals trying to play -and failing to- at their individual best)
An egocentric and transactional mindset left place to a far more trusting and relational one
And results started to follow…
I understand that excellent officers master their anxiety and willingness to be rapidly and dangerously victorious, if they place their team at risk. They will work on:
Creating a shared, common and emotionally anchored sense of Purpose (see Lt General van Riper)
Developing collective intelligence, because success in a VUCA environment no longer depends nor should it rely on a few persons of exception but has to come from the whole organization
Nurturing behaviours which, in turn create a culture of ambition, challenge, inclusion and solidarity
Taking the Journey by the Right requires Courage, Intelligence, Patience and Visionary capacities from the leader. Is it why it is less used by "Heroic Leaders" trying to change the culture by electroshock?
Leadership is an art and, as the French saying goes: "Being a critic is easy, being the artist is far more difficult". I simply hope that this article may have you reconsider that true Heroism and competence may not reside in taking the spectacular and threatening Left Road, but on the contrary take the high support Leadership Journey first.