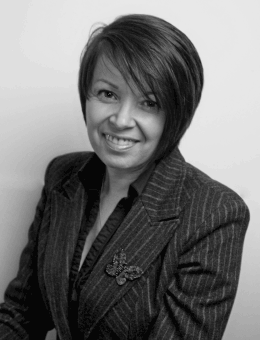 Lily is passionate about people and loves to "help them to tear up their life limiting scripts and overcome the blocks that stop them from achieving". An ex-BBC Journalist with a 1st Class Honours degree in Communications (majoring in psychology and corporate communication), she is an accomplished behavioural strategist, leadership coach, and communications consultant. Lily has a compelling interest in personality profiling and the impact of behavioural preference on team relationships. She uses MBTI, Firo B and Belbin extensively in her work to enable teams and individuals to understand and utilise their strengths effectively and overcome behavioural challenges.
Lily particularly enjoys working with executives who recognise and value their greatest asset; the people who work for and with them. During her career she has challenged numerous leaders who initially thought that the reason their team, department or business was under-performing was because of the lack of skill or will amongst their staff. Her ability to probe, challenge and explore deep rooted issues has enabled her clients to overcome leadership difficulties and build engaged, high performing teams who are capable of taking ownership of the success of their businesses.
A media and communication specialist, Lily has worked with a wide range of politicians, television and sports personalities, helping them to understand, communicate with, and influence their audiences more effectively. Media crisis management and how to protect your brand from the risk of negative press are two areas of expertise she has successfully applied for a number of clients.
Historically, as the Head of Corporate Fundraising and Celebrity Events for a national cancer charity in the UK, she has developed and managed numerous fundraising campaigns whilst delivering staff training programmes to enable businesses to develop effective teams and authentic, meaningful relationships with their charity partners and stakeholders. She has also developed, promoted and MC'd hundreds of celebrity events which have delivered multiple benefits for the corporate hosts, the stars involved and the participating charities.
Lily is a founder of Mojolife, an entrepreneurial programme that blends inspirational ideas and learning with practical support, enabling people to lead change through innovation, collaboration and 'pull' (rather than push) marketing. She is also a tutor on the Goldman Sachs sponsored '10,000 Small Businesses Growth Programme' at MMU Business School. She is a founder member of The Message Trust's Business Network, a group of business leaders that underpins and supports the charity to enable thousands of young-offenders and disaffected young people to make a new start in life. She is also a founder member of Act4Africa, a small charity that trains and funds Africans affected by HIV and AIDS to deliver Healthcare, AIDS Prevention and Stigma Reduction Programmes in communities across East Africa.