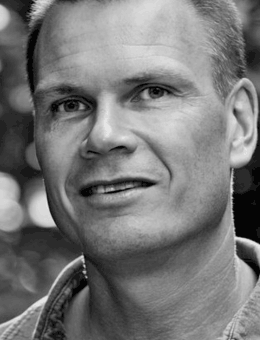 Michael has an innate curiosity and loves to ask questions of himself and others. Over the years he has found that a well crafted and timely question can open up unexpected new avenues or approaches. An early example came during an expedition to survey a glacier in North Norway for his BSc thesis. When sharing a mug of tea with a friend, watching the sun reflecting off the 80km ice-cap below, the question arose; "What job might actually pay us to be in such a wonderful place?" It turned out that the British Army's Royal Engineers happily employ Officers to travel the world to climb mountains and make maps. The chance to play with explosives and giant armoured vehicles was an added bonus. After 7 years service, including operational duty in jungle, desert and urban environments, Michael found himself back as a civilian wondering; "Where else can I get such job satisfaction?"
The next years saw Michael traveling extensively, leading projects in Zimbabwe and Chile for a youth development charity, completing a Masters degree and working as a manufacturing consultant. This phase of freedom ended with the twin disruptions of marriage (very positive) and his employer going bankrupt (less welcome). The question now became "What direction do I take next?"
A chance meeting with the inspirational head of a leadership development group provided a neat solution. His personal mantra was "If you don't know what to do, just try something. If you enjoy it; keep doing it. If not; stop doing it and try something else". Michael adopted this immediately and has spent a very happy 15 years evolving and adapting his expertise in international Leadership Development. His solid experience of leading in difficult situations provides a frame of reference for his work; new concepts that he comes across are tested through questioning; "Could I have applied this in practice?" If the answer is "yes", then it will be admitted into his repertoire of ideas. Usefully, the many industries he works in constantly expose him to new ideas, as does his network of highly diverse colleagues and his extensive reading in science, mathematics, and history.
Clients often tell Michael how infectious they find his thirst for learning; it inspires others to embrace personal growth too. When working in a group setting, he is recognised for his detailed, almost forensic, observations that underpin his penetrating analysis and incisive feedback. His ability to help groups to align their emotions and behaviours with their strategic intentions means he is appreciated as a coach who helps senior teams to unlock tensions, form new habits or make important breakthroughs. He has been told that his dry, but mischievous, humour is a powerful complement to his sharp analysis and challenging questioning.
Michael continues to ask himself every few months; "Am I still enjoying my profession?" At the moment the answer is a resounding "Yes".
Some of Michael's writing on the Enablers Network blog: