I wonder how the officers in the US Army in Afghanistan felt when presented this bright slide, issued by bright consultants, seeking to present them with the complexity that they were faced with in the occupied country…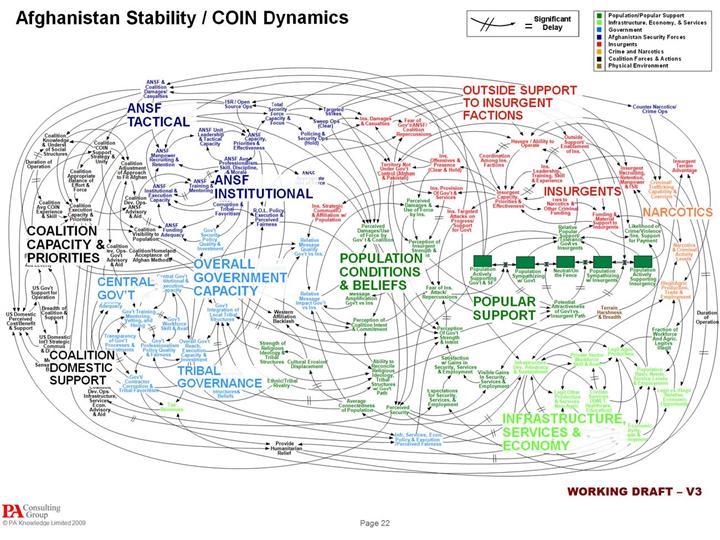 One of the officers present to the slide show is reported to have said: "Once we understand a slide like this one, then winning the war will be easy…"
When analyzing the "winning formula" which brought most of us to our leadership positions, reliability, getting things done, keeping things under control, strong leadership, strategic capabilities, organizational skills all contributed to our success. Therefore, when confronted to new challenges, "normal" leaders will seek to retrieve and put to practice the skills that got them there. And we may be wrong!
I was invited as a speaker to the Conarh of São-Paulo (the world's second largest HR community event with 3'500 participants and 18'000 visitors). The theme of my speech was around "Leading in the Open Source Economy"… The Open Source Economy is demanding very different skills from leaders than the ones we all studied at Business School (when will we shift from Master in Business Administration to Master in Business Leadership?), as last week's post suggests.
For my speech, I asked the people who were present in the room, at the start, to move all chairs on the side. I explained that:
The objective of the simulation was to get each participant to meet their own, personal objective
The individual objective was to identify two people in the room and stay positioned at equidistance of them
 There were a few constraints:
You can not show who your reference points are
You can't change reference points during the simulation
The borders are those of the room we were in
No running (safety)
Do not try and talk to each other to solve this…
And, in one minute and forty seconds some odd three hundred people created a solution that no computer to date would be able to…
 I let you imagine the chaos we would have found ourselves into if I had asked one participant to take the lead, prepare a strategy and solve the problem (with the same constraints)…
Leading in complexity requires different skills from what we are used to and these are sometimes counterintuitive… I admit to have felt like taking a huge leap of Faith when giving clear instructions about the objective(s) and constraints and… letting participants decide what was the best way for them and the community, to solve this. This was a new world record (the previous one was with 250 people on a football pitch near Insead)…
Keen to try? It is an excellent practice for tomorrow's leaders!
Parisian week ahead… Have a great week-end all
Didier