Sports coaches know it: the fear of loosing is a powerful stressor for athletes and they do their best to keep them out of it. In an earlier post, as well as in our book[1], I commented on the picture below (inspired from the works of  Daniel Goleman, Henri Laborit or Paul McLean):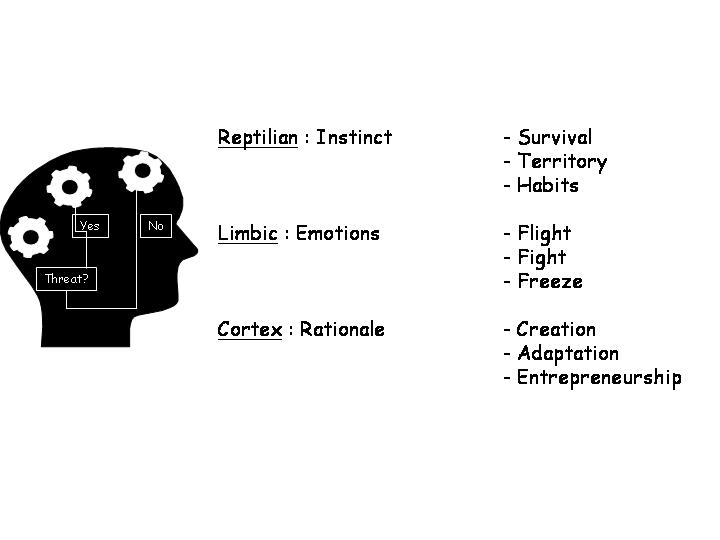 In short, it suggests that when a person feels a threat against their survival, territory or habits, an immediate reaction is triggered which calls a defense mechanism to take over (Fight, Flight or Freeze). If Fight or Flight may not be perceived as an immediate problem to a sportsman, the fact that, simultaneously, a hormone called cortisol pops-up in order to switch off our creative, analytical and rational senses, certainly is. An athlete incapable of thinking during his practice will never make it to the top…
We probably all know this by now. What I used to find difficult to understand was the "fear of winning"… I always thought that I'd be really lucky to be surrounded by competitors crippled by that one… However, in two recent discussions, my partner Michael Newman and Swiss therapist Marco Beata helped me understand what is at play in such a case:
For him the fear of winning does exist and may come from the following reasoning:
I always "did things that way" (my previous winning formula)
If I accept the advice from my coach or my boss (or worse to most of us, from my husband or wife;) I may do better and succeed in a more efficient, glorious, spectacular etc. manner
This will therefore prove I was wrong before. Questions may raise on why I did not think of it earlier. My adviser may even blame me for not having listened to them before and been so stubborn…
I'd better therefore not try too hard, so that I manage to appear to comply and prove in the same time that I was right not to have tried
Being rather stubborn by nature and upset when my wife is right (with my sincere apologies to Cris;), this immediately made sense to me and I reflected: How can we ensure that we do not provoke either fear of failure or fear of success when engaging our people into change?
One of the key aspects of an engagement process is to "Co-create clarity, meaning and ownership" around the change we want to bring. Leaders must be clear of course on the negotiable and non-negotiable. It is their duty to drive the business. However, nobody can impose clarity on others. When we know that 80% of the elements  that we unconsciously choose to help us analyze a new situation, are retrieved from our experiential memory, the chances are high that everyone will have their own understanding and make their own interpretation about the change. It is therefore fundamental that leaders refrain from leading, selling on the content of the discussion, when they try to engage and keep an eye on the process of it.
People will own the change and feel an integral part of it when their leaders will give them time and space to discuss, explore and understand it. This is probably the best way to let them "own it" and avoid the fear of winning reaction.
On my way to Paris again. Thank you for following this blog each week
Didier
---
[1] "Engaging Leadership" D. Marlier & C. Parker (2009) Palgrave MacMillan page 79