Partners
Olivier Lacheze-Beer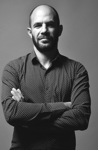 Olivier Lacheze-Beer is a world class coach, passionate about expanding and developing human potential and inter personal relationships, in order to help individuals in companies and beyond change, adapt and increase their performance.
He has very strong communication skills and works using his intelligence and creativity to identify problems, find solutions and implement them through training and coaching.
From a multi cultural background (he has lived in 8 different countries and speaks 5 languages), Olivier's work is rooted and inspired by the richness of his background, as a professional actor, an entrepreneurial businessman and someone who has had direct experience management: he was a founding member of tenUK Lifestyle Management in the UK, founding member of RogenSi in France and is now one of the Managing Directors of inchigo, a learning and development consultancy business.
Olivier works with individuals, teams and organisations on Leadership Development themes with managers of all levels (board members, senior managers, front line managers etc…) in such companies as Eurocopter, BNP Paribas, Total, L'Oreal, AXA, Merrill Lynch, Carrefour, Mexx, Fortis, Microsoft…His work takes him to such varied places as London to Barcelona, Paris to Atlanta, Oslo to Hong Kong, and in such varied sectors as Finance, Retail, Pharmaceuticals, Aeronautical etc..
Olivier has strong analytical and communication skills and uses a mix of NLP techniques and creative arts processes to bring life and learning to his sessions.
He is a graduate of both the London School of Economics, where he obtained a degree in International Relations, as well as the prestigious Central School of Speech and Drama, where he studied to be an actor.
He is certified Extraordinary Leader, Breakthrough, TetraMap and is training as an Integral Coach.
Olivier is capable of delivering strong messages in an approachable manner. Unique and inspiring, his approach is always fresh and provocative, galvanising individuals to be more creative and expressive in their day-to-day lives.
Olivier is President of INCHIGO