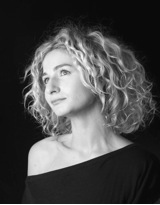 Leonore is fascinated by the relationship between the individual and the group, and the dynamics it generates. It is, therefore, not surprising that her observations of the world of theater, where the balance of a team is decisive, find their echo in the business world.
Leonore has first studied documentary filmmaking at the ESEC and then continued with an acting training in the well-known Blanche Salant International School of Theater. An actress for 8 years now (she is part of the professional league of improvisation among other acting projects), she has been managing her own theater company since 2009.
She joined The Enablers Network in 2011 while continuing to manage "Les productions du Sillon" (www.productionsdusillon.com) with which she produces on the pieces and plays, such as BUILDING, directed by Catherine Schaub (Grand Prix du Theatre, 2011) and Transit (s), which will be interpreted by Agnes Jaoui at the Théâtre Marigny in Paris during the 2013 season. Her Company is located in Poissy where she conducts social actions in deprived neighborhoods: This year, the interventions will be related to the theme of "the family, a matter of group dynamics, again!"
Leonore is married to songwriter Renan and has a wonderful daughter!