Partners
Deborah Berlinck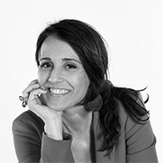 Deborah Berlinck is currently an independent journalist, writer, moderator and contributor to Folha de São Paulo and O Globo, Brazil's most influential daily newspapers, and Radio France Internationale Brésil (RFI Brasil).
For over 20 years she was the European correspondent of O Globo, a leading Brazilian newspaper. She has covered key historical events worldwide — from conflict in Bosnia and Libya, the resignation of a Pope Benedict XVI, to economic summits and trade negotiations.
Reporting in about 30 countries has given her a life lesson in human behaviour.
During wars, she witnessed the crude consequences of bad leadership, greed, egocentrism, nepotism, force and insularity. She saw the worst but also the best of people — those who had lost the most were the most willing to share and to build.
In peacetime, she wrote on the economic and social consequences of a lack of vision, but also on the positive power of people who engage, share, dream, listen and accept change.
She conducted exclusive interviews with numerous personalities, from Presidents such as Vicente Fox (Mexico), Aleksander Kwasniewski and Lech Walesa (Poland) to Bill Gates, the founder of Microsoft, several CEOs, Nobel laureates in economics and also controversial figures, such as the Bosnian Serb war criminal Radovan Karadzic.
She received awards from O Globo for the coverage of war in Libya, Pope Francis's election, the UN Climate Change Conference in Copenhagen, the 2007 French elections and Pope John Paul II's death in 2007. Deborah also coordinated a research team on a major international project – the Small Arms Survey. She is the co-author of two books.
Born in Rio de Janeiro, Brazil, she is a naturalized Swiss and proud of her two cultures. She received a BA in Journalism and Communication and holds a Master in International Relations from the Graduate Institute for International and Development Studies, in Geneva. She was also granted a Ford Foundation scholarship to study U.S policymaking process at the University of Maryland, United States.
Deborah is currently experimenting with new forms of media. She is driven by passion – both at work and in personal life. As a marathon runner, she aims to get to the finish line with a smile. In life, she believes there is no finish line for learning. Her greatest accomplishment is her daughter, Anna Carolina (19).